Day #9: Always Be Gaming
In a common sales office 10% of the salesmen make 90% of the money.
Is it because they are that much better salesman?
No.
Its because a successful salesman is constantly marketing himself.
The other 90% do their 9-5 in the office and call it a day.
And then they wonder why they're broke.
A big mistake guys make is thinking it only counts when they're in a bar or club. Or at a party.
…Or some other social event that they've specifically designated as "game night."
They read books, study lines, learn to be alpha, but they sit in their house all week waiting for the weekend to go "game."
And what did I tell you on Day 2?
Bars and clubs are the hardest possible place to learn game.
You're setting yourself up for failure.
Plus how many people do you know that met their girlfriend or wife in a bar?
Not many I bet.
Women are everywhere.
All around you.
But you're too wrapped up in waiting for some "event" that tells you it's ok to talk to them.
"Game" is always on.
Does that mean all you should care about is game?
Hell no.
It just means all the stuff I'm about to teach you must be implemented at all times.
Always dress to impress.
Always be looking for opportunities to flirt with girls.
Always strive to make your conversations memorable…
HINT:  This is important even if you're trying to score one specific girl.  Because she MUST believe that you have options.  So it's important that she believe you've got good game.
————————– Preview—————————
Speaking of "conversations"… next week i'm going to BLOW YOUR MIND with the stuff you're going to learn.
If you ever struggled to talk to a girl.  Ran of out things to say. Or you didn't know how to flirt with her.  Then stick with me.
Next week I pull down the curtains.  And let you in on some 'conversation secrets' that most men will never know.
————————-/Preview—————————-
Point is… always present your best self.
A lot of guys wonder how come some nights it is so hard to get 'in state' or feel 'on'
It's hard because all week you've created a habit of bad posture, poor tonality, boring conversations….
…and then you expect to miraculously be the life of the party come Friday night.
Sorry, it don't work that way.
Every thing you're going to learn from here on out needs to become a new habit in your life.
From here on out… the theory is over.
Every day you're going to be learning a new skill.  Everyday you need to practice that skill.
I know what you're thinking…
Where do I find these girls to practice on?
On day two I asked you to list all the "easy" places you can meet women.
Take out that list.
Those are the places you practice.
I also promised that I was gonna tell you some of my favorite places.
Here they are:
-Raid the fuck out of your social circle… friends of friends of friends… easiest girls to meet.
-Take classes or lessons. Salsa is my favorite.  Nothing sparks chemistry with a chick like dancing with her.  (and don't worry  if you don't know how.  I'm the world's worst dancer.  I look like a retarded monkey. I still get laid)
– If you're in college join some clubs
Here's a list of the best college clubs for meeting girls.
– If you're out of college go to 'young professional networking events'
– Need extra cash.  Get a job waiting tables at  place where a ton of girls work.  Easiest girls in the world to practice on.
I could go on forever..
But you get the point.
Think outside the box.
Once you get in the habit of always reinforcing the skills you'll be learning, you will find that it becomes a lot easier to get "on."
More importantly though, is that you will find, like the most successful salesmen, that the best leads come when you least expect it.
If you're always "on" you'll find that you'll naturally be attracting more women into your life.
Your co-workers who used to ignore you will be asking you to come hang out with them.
The counter girl at your local bank will be smiling at you more. Practically begging to give you her number.
Always leave the house expecting to meet the girl of your dreams.
Because you just don't know when you will bump into her.
Make it happen!
Bobby RIo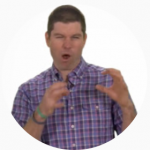 P.S. If you're wondering when all of the "tactics" are coming…don't worry.
You are going to get more "tactics,"  "techniques," and examples of what to do then you can handle.
Be patient 🙂
P.P.S. Tomorrow is the LAST mental reframe you need to make.
…And  it's a BIG ONE.  But all of the tactics and techniques won't mean shit if you don't "get it."
Previous Lesson:  Day 8